Become a
Digital Signage


Reseller with Exhibio!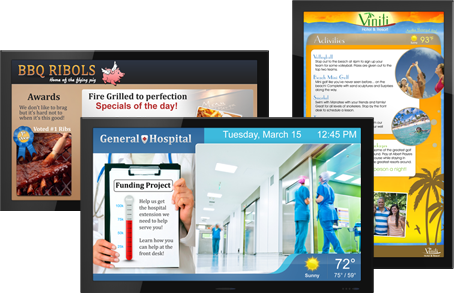 Digital signage is booming!
The digital signage market has been exploding in recent years, and is on course to keep growing in the foreseeable future. Intel's most recent analysis predicts there will be 22 million digital signs deployed worldwide by 2015. This is a huge jump from the estimated 3.5 million signs existing at the end of 2011, according to InfoComm. To put this into a dollar perspective, a digital signage study done by ABI Research calculates this market as growing from around $1.3 billion in 2010 to nearly $4.5 billion in 2016.
What is driving this trend?
Like any other technology-related field, the cost of hardware and production is continually decreasing. Meanwhile, the quality of the product improves over time. However, the key driving factor concerning the digital signage industry is the ever-increasing demand of today's marketplace. Digital signage is still a relatively new product and there are many businesses and organizations that are only now beginning to realize its potential. Those that have already been using digital signs are continuing to upgrade and expand. Even small businesses are able to fit it into their budgets thanks to lower costs and easier deployment.
Contact us to get started!
Why Resell with Exhibio?
Free sales and support training provided.
Turnkey products, plug-n-play installs.
Small, Medium, and Enterprise solutions.
You can be a part of this growth!
Exhibio has been an innovator and key player in the digital signage industry since 2001, and is currently offering partnership opportunities for qualified resellers. We've become an established brand by offering turnkey digital signage solutions to meet the needs of a variety of applications, both large and small scale. Contact us to find out more and get started!