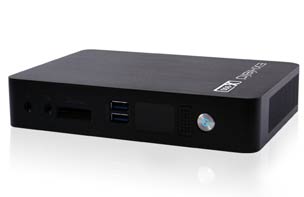 Exhibio has announced cutting-edge hardware upgrades across their full line of digital signage media players.
The new units have been equipped with faster and more energy-efficient processors, allowing them to continue delivering today's most demanding digital content to clients' displays as effectively as possible. The compact M-500 model runs on a modern, dual-core mobile processor from AMD, while the more advanced X-900 and ST-200 models are now being powered by blazing fast quad-core Intel i7 CPUs.
Solid-state drives (SSD) now come standard on all Exhibio digital signage players as well. SSD storage is faster, more reliable, and less power-hungry than traditional hard-disk drives.
The new hardware changes also introduce a sleek, smaller form factor for each unit. Having a smaller physical footprint makes these systems easier and more convenient to deploy.
"Exhibio is committed to making our digital signage players the fastest and most efficient available. Our new product line definitely puts us on top of the market in this regard," said Greg Berner, Exhibio's Sales Manager.
For more information, contact Exhibio at 1.877.394.4246 or online at http://www.exhibio.com/.